Giving Hearts Day 2012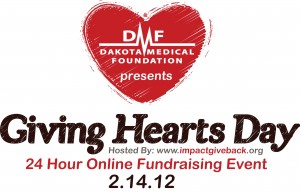 Charity is kicked up a notch with the 2012 Giving Hearts Day, a 24-hour  online fundraising event held Tuesday, Feb. 14. Several charities will benefit from this online fundraiser through the Dakota Medical Foundation:
Bismarck Public Schools Foundation
Ronald McDonald House, Central Dakota
Children's Choir
North Dakota Women's Network
Elks Camp Grassick
Gateway to Science
FARRMS.
Contributions of $10 or more will be matched by Dakota Medical Foundation  and community donors. To support one or more of these organizations and  have your donation matched, go to www.impactgiveback.org on Tuesday, Feb.  14 and click on the Giving Hearts Day "Learn More" button. URL Radio will  be broadcasting live for Giving Hearts Day from Gateway to Science in the  High Prairie Arts and Science Complex at 1810 Schafer Street in Bismarck  from 11 a.m. to 4 p.m. We'll be joined by exciting local celebrities like  Marci Narum of KX-12 News, City Commissioner Mike Seminary, and ND First  Lady Betsy Dalrymple.
So put this in your favorites and get ready to give readily!
www.impactgiveback.org
Thank you to ABC Seamless for sponsoring the broadcast!!