Rockin' Christmas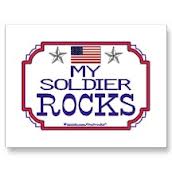 Help us help our soldiers stationed overseas have a Christmas that rocks!   Literally. We've had several national recording artists send us swag to  send to our troops overseas to make their Christmas rock! T-shirts, cds,  dvds, drum sticks, and lots more have been donated by bands like Great  White, Veer Union, Anchored, White Lion, The Sweet, Kix, Faster Pussycat,  Paisty Jenny, Static X, DB Sleeze, Prophets of Addiction, Bleeding in  Stereo, Pretty Boy Floyd, Shameless, Specktra, Rhinobucket, Dive Bomber  and Mind Merchant.
We thank our sponsors for helping us pay to ship the swag overseas –  Riverwood RV, The Shop, and Shawn's Repair. We could use your help too!   Stop down to URL Radio M-F between the hours of 7:30 a.m. and 4:30 p.m.  and drop off cash donations, christmas cards, and hand warmers for us to  send overseas. Check our website for upcoming details and pictures.   Let's make sure our soldiers have a Christmas that rocks!
Please use the PayPal link below to make a secure donation to help ship the swag!  Thank you!!


SHAWN'S REPAIR, Mandan