New Show – The Dish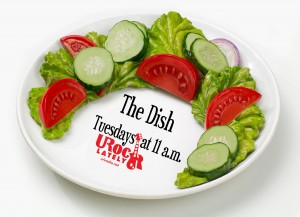 "The Dish" airs on URL Radio on Tuesdays at 11 a.m. It's geared to foodies and people that just enjoy going out, having a good meal, a good drink, and a good dessert. The show is literally a five course meal and then some. Hosts Michelle Tait and Stacy Sturm profile the area's best appetizers, dishes, drinks, desserts, and even inside dirt from the chefs and owners themselves. They take the listeners out of their office or home and into the kitchen and give them a behind the scenes tour and cooking lesson all in one. They do so through audio, video, pictures, recipes, and reviews.
"The Dish" has its own site at www.thedishonurlradio.blogspot.com. That's where they post reviews, pictures, and videos from places in the area.  Then the bits of audio are compiled into a show that is "The Dish."
They are always looking for hidden gems and local favorites. If you think there's a restaurant, diner, dish, or drinking hole that should be featured let them know. Email stacy@urlradio.net. It's a great way to get to know more about the restaurant, its owners, its chefs and its inspiration.