New Show – Dive Bar Diva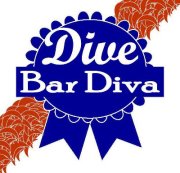 New show starting at 4:00 on Wed. April 4th!
This is not a review…it's a revelation. The host, Amber Rae is a professional producer and promoter with a love for all things entertaining, from the fluffy to the fine. She's devoted to putting art in front of audiences – a matchmaker of sorts. Her endeavor is to apply her presentation skills and strong personality to help consumers find culture and creators draw crowds. We live in a rapidly growing region where people are hungry for entertainment, which performers are eager to provide, and she hopes to use this platform to bridge the gap between the two on a local level.
She's not here to judge anyone's creativity. She's here to teach them to tout it so that everyone else can judge them for her! She's up for everything: from cheese curds to caviar, PBR to Pinot, open mics to Operas, She'll try anything once and encourage everyone to do the same!
She's sick of hearing "there's nothing to do in this town" so She's taking matters into her own hands and using her production experience and promotional knowledge to introduce entertainment opportunities to the area. With the help of her sassy sidekicks, Darius the Beer Bitch, the Producer, and our special industry guests, the Dive Bar Diva will put a classy, trashy spin on the area arts scene.
Tune into URL Radio (urlradio.net or livestream.com/urlradio) every other Wed. at 4pm, watch CATV12 (dakotamediaaccess.org/channel12/) on Thurs. at 9pm, or pick up a copy of the Prairie Independent (prairieindependent.com/) for the latest dish from the Dive Bar Diva, starting on April 4, 2012. Also be sure to visit her blog www.redamberrae.wordpress.com/dive-bar-diva  and "like" her on Facebook!
Love where you live. Support local entertainment and media – and enjoy a beer and some pork rinds while you're doing it.