2nd Annual Poker Bowling (Boker) Tournament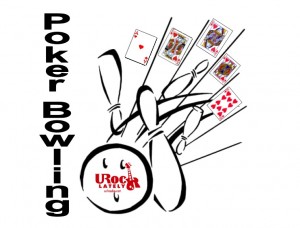 Saturday, April 21st
Midway Lanes in Mandan
Register at 11:30 a.m.
Bowling starts at Noon
Benefits Bismarck Dollars for Scholars
It's the 2nd Annual Poker Bowling Tournament sponsored by URL Radio, Bill Barth Ford, College Save, and NDCAN!!! Take a gamble and bet on a fun time Saturday, April 21st at Midway Lanes in Mandan. Registration is at 11:30 a.m., bowling starts at noon. All ages can compete. Families are encouraged to attend.
You will be guaranteed two games of bowling – one for fun and one for competition. The top 12 hands at the end of game one move on to competitive game two. Those who don't move on can just bowl for fun or their own wager (we don't condone side bets but that is your business). Then, the top 6 hands from game two move on to game three. Top 3 hands from that game will compete for our grand prizes!! We have a Discovery Flight from Executive Air, a Snow Board from Savvy Skate and Snow, and another prize from String Bean. There will also be a silent auction.
And just for participating you will recieve $50 towards a college save account!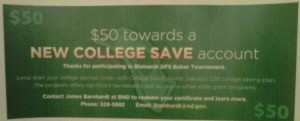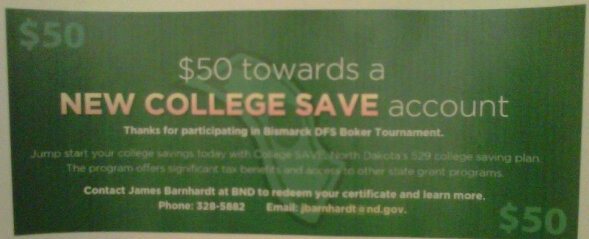 Cost is $25 for adults and $15 for students K-College. But thanks to NDCAN. Register three and get the fourth free!! Proceeds benefit Bismarck Dollars for Scholars.
To register email the following information to nicole@urlradio.net
Name
Email
Phone
Indicate adult or student
To pay you can mail $25/adult & $15/students K-College  to URL Radio 322 E. Broadway, Bismarck, ND 58501 or pay via the paypal link below.  Please be sure to still email the information above so we know who you are paying for.  If you are registering 4 people just pay for 3, but list all 4 in the email.  Thank you!
Sponsors: