Rockstars Uncensored with Laura Hargrove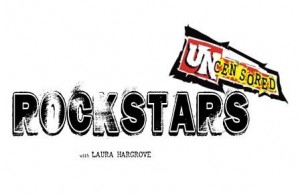 Laura will be interviewing real rockstars for a new half hour show. It will be the good, the bad, and the dirty. The first half of the show will be getting to know the band, the artist, what projects they're working on. The second half will be down and dirty backstage. We'll also give away weekly prizes with trivia contests and more exciting things to come….Tell your friends and family. This is going to be an exciting new show like few have ever heard!
Laura has already booked members from some great bands for the line-up: Guns 'n Roses, Anchored, White Lion, Kix, Hinder, Stone Breed, Steven Adler, Skid Row, Asia, Sweet, Bang Tango, Bulletboys, Faster Pussycat, Alias, Veer Union, Mitch Malloy, Warrant, RATT, Rhino Bucket, and more confirmations on the way.
Tune in Thursdays at 4 p.m., starting March 1. If you miss the show we'll also have it on our URLradio youtube channel.
March 1st, 2012 Brian Forsythe Guitarist for Kix and Rhinobucket!
March 8th, Psycho Willie …to much to add to his credentials!
March 15th, Troy Patrick Farrell Drummer from Pretty Boy Floyd and White Lion.
March 22nd Eric Schrader guitarist for Veer Union.