Red Carpet Event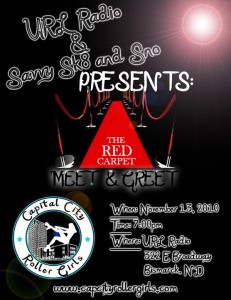 Want to meet the hottest thing to hit Bismarck since summer?  Join URL Radio & Savvy Sk8 & Sno as they introduce the Capital City Roller Girls at a red carpet meet & greet.
Saturday, November 13th starting at 7:00 at URL Radio (322 E. Broadway).  Drinks & food will be provided.
Bismarck/Mandan's FIRST Upcoming Roller Derby Team!
Capital City Roller Girls are an elite group of chic women who are not in this for the glamor or fame, but for the love of the game! Capital City Roller Girls is currently looking for girls that want to SKATE! They are also in need of volunteers to help with fundraising, officiating, refs, statisticians, or anyone that wants to help. They want to empower women to be strong and creative individuals. They are looking to have fun and create a sisterhood for life. They are going to change Bismarck/Mandan history.
To learn more about the CCRG visit http://www.capcityrollergirls.com