Boos Cruise 2015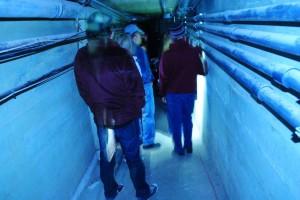 URL Radio Boo's Cruise
sponsored by Tom Briese of Bismarck Motor Company
Ever wanted to go on a paranormal investigation? Here's your chance!!
Professional paranormal team, The Spirit Seekers, will lead you through two "spooktacular" sites on Saturday, October 31st!  Yes it's a Halloween paranormal investigation!!  You'll get a bit of a history tour downtown and then the Spirit Seekers will show you how to use the equipment.  Then you're off to help gather EVP's, EMF readings, video footage, and photos. You will get to investigate three sites – URL Radio (305 E. Broadway), Impact Art Gallery and Gifts (324 E. Broadway) and the tunnels below. Check in at URL Radio between 9 and 9:30 p.m.  Investigations start at 10 p.m. and go until midnight.
There are only 60 tickets available! Tickets are $25 in advance (until noon on 10/31) or $30 at the door.  You must be over 18 to attend or have a parent/guardian waiver signed (available at URL Radio).  Call URL Radio with any questions at 751-0838. It's going to be frightfully good time!
To register visit https://www.eventbrite.com/e/url-radio-boos-cruise-2015-tickets-19206015710