The North Dakota Music Awards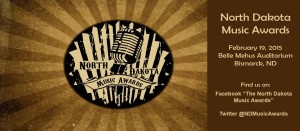 Here is your chance to nominate your favorite musician, artist, music teacher, tech, venue, etc.from all across the state. Nominations will be accepted through December 20, 2014. The top four nominations in each category will move on to the voting round January 1 – 31, 2015 & winners will be announced February 19, 2015 at the event to be held at the Historic Belle Mehus Auditorium in Bismarck. Please share this survey with everyone in order for the event to have the best representation possible for the musicians of our state.
Details/Instructions:
You may nominate more than one band/person per category
We will ask why you are nominating someone – the "why" will not be used to determine who will move on to the voting round as it is purely volume of nominations that will determine that. However, it may be used at the awards event when announcing the winner.
You can skip a category if you do not know anyone in the category.
Nominees must live in North Dakota – with the exception of the Life Time Achievement Award & the U Made It award.
If there are not four nominees in a category it will be dropped from the voting round.
Click Here to Vote now!!!
https://www.surveymonkey.com/s/ndmusicawards