Beer Run V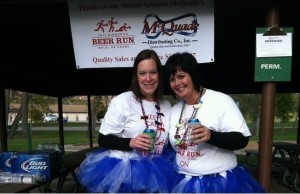 On Saturday, October 11th, URL Radio will host their 5th Beer Run/Walk/Crawl. Registration is at Sertoma Park Shelter 10 at 5:00 pm & the race will start at 6:00.
Participants will receive a playing card at each of the beer stops in which they will keep with them & gather a total of 5 cards throughout the race in attempt to make the best poker hand at the finish of the event.
Entrants will run/walk/crawl (your choice) around Sertoma park… starting at Shelter 10. The first beer stop is at Shelter #4. Participants will either drink a 7oz cup of beer or water. Upon completion of the beer, after you throw your cup away, you will receive another card and can continue to the next stop. Shelter #7 is the next stop where you will again drink a 7oz beer or water, throw your cup away and receive another card. You will then head to Shelter #9 for another beer/water and card. Then it's back to Shelter #7 where you'll receive another card and beer. Then back in to home for your last card and last beer.
After you're  finished we'll listen to music by Freight Train Todd Haugen & URL Radio, have some food, present the awards, and hand out more prizes. Trophies will be awarded to the fastest male and female, as well as the best poker hand.  There will also be fun games with the Beer Loves Bismarck crew.
Early Bird Cost = $25 for those registered by September 1st. From September 1 to September 30 is $30 & all October registrations are $40  (t-shirt  is not guaranteed for those registering after October 1.  First come first serve).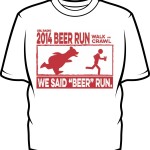 Those who pre-register will receive the following:
Beer Run/Walk/Crawl t-shirt (have to register before 10/1 to guarantee t-shirt)
(4) 7oz beers or water
(1) 12 oz beer or water
Food (probably pizza)
Chance to win prizes
Opportunity to support Designer Genes of ND (a Down Syndrome Support Network) http://designergenesnd.com

Thank you as always to McQuade Distributing for helping us rock this event!