URL Radio – Capital Pride Star Sponsor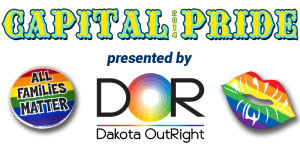 URL Radio is proud to be a star sponsor for Capital Pride 2014!
With increasing support for LGBTQ rights and equality, communities across the country have been celebrating Pride Month. Now it's time for Bismarck-Mandan to connect, celebrate diversity, and discover community.
Capital Pride 2014, hosted by Dakota OutRight (www.dakotaoutright.org), will take place August 1-3, 2014. A variety of activities are planned, including free and family-friendly events.
Friday, August 1
Riverboat Social Cruise, 7 p.m. – 10 p.m.  Take in a relaxing sunset cruise on the Lewis & Clark Riverboat while enjoying appetizers, a cash bar – music and a digital exhibit from the Genderbend Project are planned. Seating is very limited, so get your tickets early! The Port of Bismarck is located at 1700 River Road Dr. Ages 21+. $30. (click here for ticket info)
Saturday, August 2
Pride in Custer Park, 9 a.m. – 2 p.m.  This family-friendly event offers vendors and information tables, games and activities for kids, and entertainment. Held in Custer Park at the corner of W. Broadway Ave. and N. Washington St. FREE.
Dakota Divas in Drag, 8 p.m. – 1 a.m. Our favorite emcee, Janessa Jaye Champagne, will not disappoint! Take in our notoriously fun drag shows and enjoy the attitude and celebration of drag culture. Held at the Civic Center Exhibition Hall, upper level. Ages 18+. $15.  (Click here for ticket info)
Sunday, August 3
Interfaith Service, 11 a.m. – 12 p.m.Looking to discover the LGBTQ-affirming faith community? Join the Bismarck-Mandan Unitarian Universalist Congregation for an interfaith service. The UU is located at 818 E. Divide Ave. in Bismarck.
Capital Pride Picnic, 12:00 p.m. – 2:30 p.m. Head on down to Shelter #11 at Sertoma Park after the UU service for some fun and fresh air. Bring your own picnic or food to share – the space is close to a playground, horseshoes, and volleyball. Sertoma Park is located on Riverside Park Rd. at W. Arbor Ave. in Bismarck. FREE.
Pride merchandise will also be available at events throughout the weekend, including flags, stickers, magnets, lanyards, boas, and rainbow fox tails! Special Capital Pride posters will also be available for purchase. All of the merchandise proceeds go to support Capital Pride 2014 and future Pride events.
Capital Pride Star Sponsors include the Bismarck-Mandan Unitarian Universalist Congregation, Rasmussen College, and URL Radio.