North Dakota State Fair Concert Contests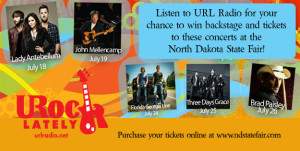 Lady Antebellum, July 18
Using the contact us form at the bottom of this page submit your best "Need You Now" story. You can remain anonymous (please include your email & phone #) . Our panel of judges will pick the top three, and read them on the air during the July 9th morning show (keep it PG13 please). The listeners will then vote and the winner will win tickets and backstage passes for two to Lady Antebellum. We also have other tickets (without meet & greet) to Lady Antebellum for you to win so be sure to tune in to learn how to you can win those.
John Mellencamp, July 19
Listen to learn how you can win tickets to see John – sorry no backstage passes to win.
Florida Georgia Line, July 24
Starting today listen for the cue to e-mail us & enter to be one of the 48 people chose to show "how you roll" in a Little Tikes Car during Urban Harvest on July 10th from 11:00-1:00. Forty eight individuals will cruise through an obstacle course, and fastest time wins backstage passes to meet Florida Georgia Line. There will be other chances to win tickets for Florida Georgia Line as well so be sure to listen for those opportunities as well.
Three Days Grace, July 25
Six lucky listeners will be put through a series of ridiculous challenges on the July 10th morning show. The person to complete them the fastest will win backstage passes to meet Three Days Grace. Watch Facebook for your chance to be one of the six to stand up to the challenge. There will be other tickets to win a chance to see their concert so listen to learn how to win those.
Brad Paisley, July 26
We will be holding a Crazy for Paisley Fashion Show – location, date & time to be announced. In the mean time start preparing your most decked out loudest & proudest paisley print for the fashion show. E-mail your name & contact info to info@urlradio.net to get registered for the fashion show. The winners will be chose by the following methods 1/4 votes from crowd, 1/4 votes from Facebook likes (the night of the fashion show), and 1/2 votes from judges. There will be other tickets to win to see Brad so
listen to learn how you can win those too.