Public Service Announcements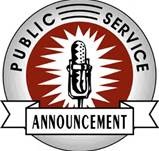 May 2 Marcus is Walking
Dakota Stage Ltd. is proud to present Marcus is Walking, a comedic drama,  as the next show of its spectacular 34th season. This play showcases a  variety of actors including Kevin Tengesdal, Abby Tillotson, Jak Newall,  Sarah Huebschwerlen, Mark Kuntz, Mark Hasbargen, Ryan Masset, and Lindsay  Fischer. This comedic drama, comprised of eleven vignettes, takes place on  the hundredth anniversary of a car; the play roams the emotional landscape  of human frailty and vulnerability; charm and strength; as we travel in  our cars. Control, navigation, love and escape, are some of the themes  explored in this clever, contemporary comedy. Performances are at 7:30pm  on Wednesdays through Saturdays and at 2pm on Sundays from May 2nd through  May 12th, Tickets are $18 for adults and $15 for students, seniors, and  military personnel. Reservations can be made after March 25th, online at  www.dakotastageltd.com via email at execdir@dakotastageltd.com, by phone  at 701-258-4998 and at the door before each show.
May 5 Benefit/Silent Auction for Kali Coffey
Kali is the daughter of Kristine and Jason.  Benefit is at the Bismarck Amvets on May 5th from 4-8 p.m. A spaghetti dinner will be provided with a free-will donation.
May 10 2nd Annual Cottonwood Golf Course Wine Tasting – Steele, ND
COTTONWOOD GOLF COURSE IS HOLDING A WINE TASTING EVENT. TICKETS ARE $10.00. YOU CAN PURCHASE TICKETS IN ADVANCE AT BOWERMAN INSUARNCE, NORTHLAND FINANCIAL, STEELE OZONE, OR STEELE AMVETS CLUB. THERE WILL BE WINE, APPETIZERS, SILENT AUCTION, AND DOOR PRIZES. WINE PROVIDED BY VINTNERS CELLAR OF BISMARCK. MUST BE 21 TO ATTEND.  Vintners will have wine available that evening to purchase also.
May 11, 2013, Stamp Out Hunger Food Drive
Missouri Slope Areawide United Way will partner with the National Association of Letter Carriers for the annual Stamp Out Hunger Food Drive. Letter carriers will collect nonperishable food items for United Way food pantries. Donations can be placed next to mailboxes and with the help of United Way volunteers, letter carriers will pick up the donations when delivering mail. If interested in volunteering, please visit www.msaunitedway.org or call MSA United Way at 255-3601.